SaaS Online Auction Platform
Client
Jakibi.com is a product that we have imagined, designed, developed and are now running for Montreal Auction house.
Challenge
This auction house regularly sold high-ticket items but was seeing an opportunity to sell lower ticket items in higher volumes to a crowd of people that don't typically enjoy the conventional auction format.
Solution
A software-as-a-service solution so they can exploit this opportunity without ever having to worry about hiring a tech team.
Context
Jakibi begins in Montreal, Quebec with the owner of The Montreal Auction House (La Maison Des Encans). He approached HalfSerious with a concept: every month, collectors from far and wide would travel to the Island of Montreal to bid and acquire rare antiquities through live-auction. We're talking about highly coveted art pieces, antiquity china, and first edition books. But what about those small high-quality items not worth the kilometers and the displacement? Sure, there are online auctions interfaces like eBay and Christie's, but they lacked the pizzazz and excitement projected at the podium.
A 2-sided marketplace
For Sellers
A low friction access to the online auction market. A one-stop-shop to liquidate inventory generated by successions, moves and redesigns.
Novel online sales channel.
Jakibi also offers incremental monetization opportunities if the auctioneer plays a local partner role.
A managed sales channel as well as free exposure.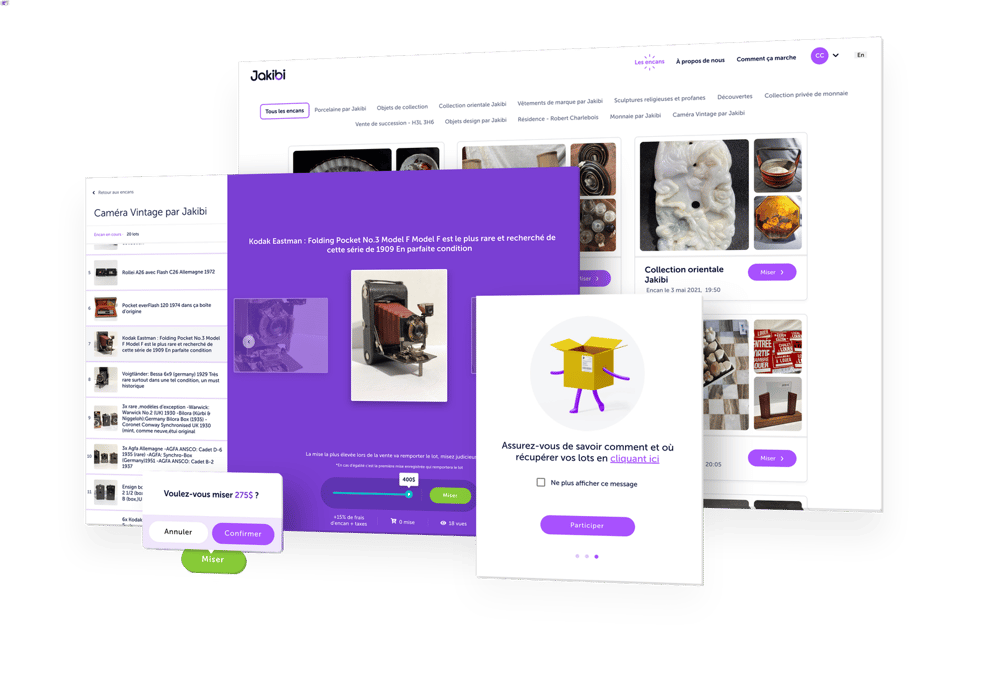 Jakibi, suspense, auctions and excitement
on one platform.